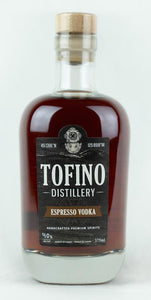 Using locally roasted coffee beans from Rhino Coffee House, we have infused our premium vodka to create a unique spirit with an authentic dark roast coffee flavour.  40% 
Like our other spirits, this vodka has no added sugar which distinguishes it from others in its category, making it excellent for any traditional coffee flavoured cocktails like shafts and white russians, as well as in your favourite espresso Martini!  
Cheers to a little boost in your day and in our lineup of spirits!