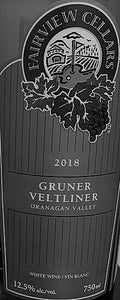 An Austrian grape in BC? Yep, really. This second white wine for Fairview Cellars hails from the same vineyard as the Pinot Noir, just north of Oliver across from Vaseux Lake. 
Classic Gruner notes of citrus, pear and stone fruit combine with a light herbs and pepper on a long, honeyed, mouthwatering finish. Here's one to pair with salads!
Very small production- like, 70 cases small.