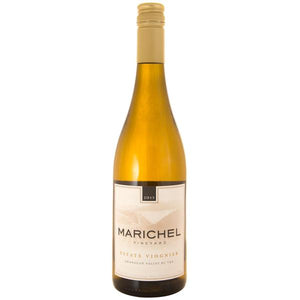 Estate grown in the excellent 2017 vintage. 100% Viognier. Elegant and complex. Separate portions were wild fermented, barrel aged, whole-cluster pressed and free run. Blended to deliver an experience in the classic Old World style.
The Naramata Bench in B.C.'s Okanagan Valley is a unique grape-growing area, unlike any other on wine region on earth. Rich, ripe, full-bodied red and white wines grown at 50 degrees latitude? It happens nowhere else on the planet. The Okanagan Valley contains Canada's only desert, with hot summers and long, long daylight hours. And as if Nature intended to make a good thing even better, Okanagan Lake provides a vast thermal sink to moderate the excessively hot and cold temperatures common to arid regions. It's a "Goldilocks" appellation: not too hot, and not too cold. 
Marichel Vineyard was conceived as part of nature, and continues to live within and respect its surroundings. It's this unique natural environment that provides the singular character of our wines. We don't create interest and complexity in our wines through winemaking artifice. Within the whole vineyard there are eight distinct mini-terroirs. Complexity and character in our wines arise due to the varied slopes, soils and exposures our vines experience. We intentionally avoided uniformity in our vineyard; instead, we preserved and embraced its natural variety.