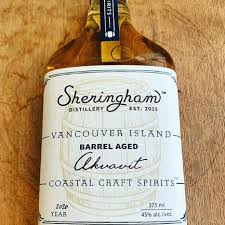 Shawn Soole, BC Spirits A Day: The long awaited and newly released Sheringham Akvavit Barrel Aged is everything I could have expected from Jason. Aged 8 months in their Red Fife Whisky barrels, it's a melding of two amazing Scandanavian flavors, rye bread and akvavit.
Akvavit:
A traditional Nordic spirit of tranquil unsung fortitude. Made from B.C. white wheat, B.C. malted barley and botanicals from land & ocean, including sustainable hand-harvested local winged kelp. 42%

Notes of dill, caraway, anise & citrus with a hint of the ocean from locally harvested winged kelp.

Renowned Victorian bartender Shawn Soole fell in love with Akvavit when he visited Iceland in late 2015. The culture that is behind Akvavit in its native Scandinavian lands intrigued Shawn and he began an exploration into the diversity of each country's native spirit. This is a representation of all his favourite things about Akvavit with our own island twist curated by the aptitude of Jason MacIsaac.