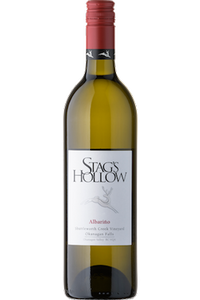 The nose shows vibrant notes of citrus, ripe tropical and stone fruit, along with mandarin orange and lemongrass. While in the background, complementary aromas of biscuits and lemon curd are likely derived from the wine's extended lees contact. Ripe peach, apricot and mango carry through to the palate, which is generously rich and textural, but balanced by an abundance of mouth-watering acidity. The finish is refreshingly clean and mineral-driven, with lingering notes of grapefruit and white peach. 12.5%
Albarino is a white grape indigenous to Galicia, in Spain's Northwest. Stag's Hollow is one of only a few producers in BC of this interesting and delicious grape. This is a small lot of just 457 cases!
If you like higher acid whites with a nice texture (Semillon, Chenin, Riesling, cool-climate Chardonnay), then you'll like Albarino. A great wine to contemplate the occasional cloud on a sunny day.