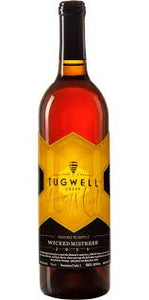 Mad Marion recalls a time when meads were fortified to preserve their cellaring like that of traditional ports. A sweet, well balanced fortified mead rich in berry flavour, soft tannin, and subtle hints of vanilla from French oak aging. 18%

Parings: Strong Cheese, Nuts, & Desserts.
Marion Berries grow plentiful on Tugwell Creek's farm and are our favorite berry in the berry pasture. The long hot summer produced a bounty of these rich berries this season. Bob decided to do a traditional aged berry port style mead.